Fence Cleaning, Staining, and Restoration Services
Top Choice for Fence Cleaning, Staining, and Restoration Services in Naperville, IL and Surrounding Areas
POWERHOUSE's fence cleaning, staining, and restoration services are the best in Naperville, IL, and the western suburbs. Powerhouse Pete ensures that every customer gets only the best of work while offering unbeatable prices on all services.
From fence cleaning and staining, POWERHOUSE does it all. We offer free fence cleaning and staining quotes to potential customers, and we're always more than happy to answer any questions about our work. Our services are unmatched in quality and affordability.
Call POWERHOUSE today for fence restoration services in Naperville and surrounding areas at (630) 355-5456 and for a free estimate!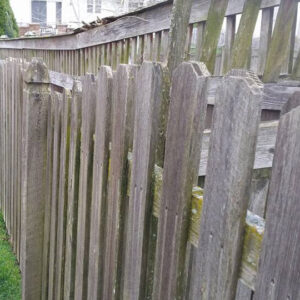 Get Your Fence Restored and Looking Fantastic!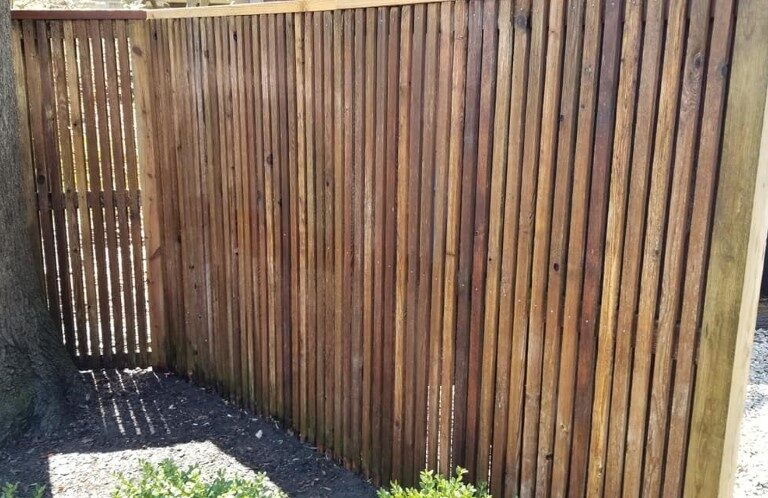 Over 35 Years of Experience and Local Trust in Restoring Fences Throughout the Chicago Suburbs
POWERHOUSE has been providing exceptional service to both residential and commercial clients in Naperville and the Chicago suburbs for over 35 years now! Powerhouse Pete has always believed in customer satisfaction above everything else. To Pete, it is important that you feel completely satisfied with his services before he ends any job so that you keep coming back to POWERHOUSE again and again!
We Clean, Repair & Seal Wood Fences to Perfection
Here at POWERHOUSE, we use a soft washing technique that will leave your fence spotless and look brand new without harming the wood. We use professional pressure washing equipment to safely blast away all the dirt and grime from your wooden fences, leaving a completely refreshed look!
Our high-powered equipment can clean up to 200 feet of fence per hour. We also only use eco-friendly cleaners that are completely safe for the environment.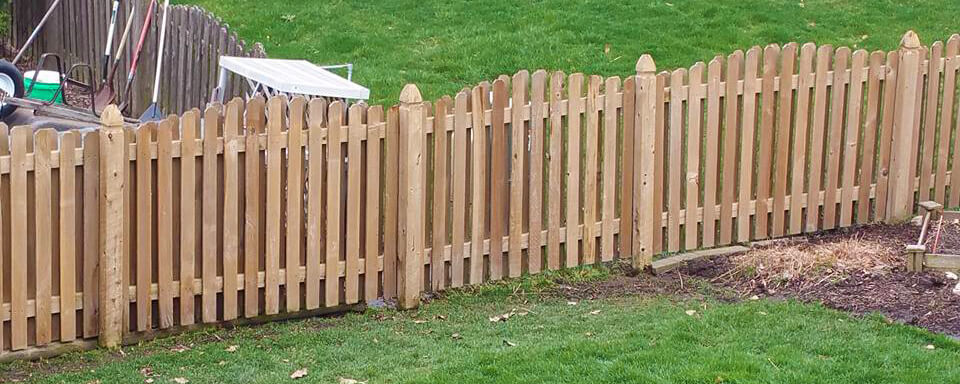 If you want to get your home and business safely cleaned by the best, call Powerhouse Pete today at (630) 355-5456!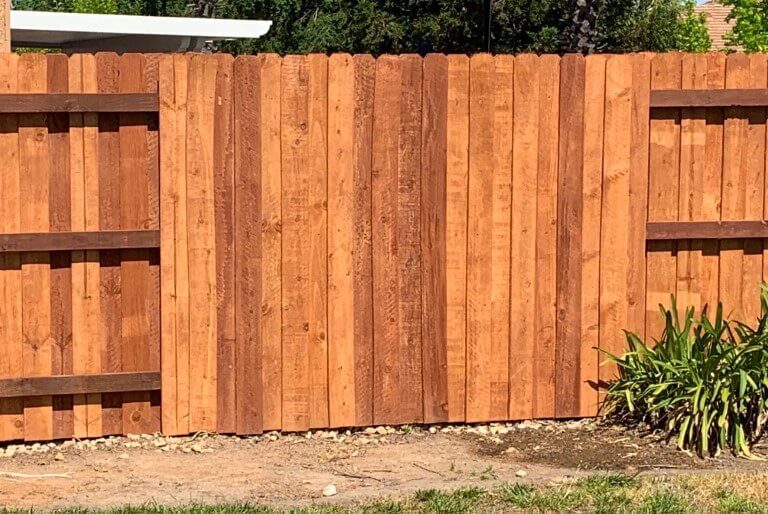 All Types of Fencing Materials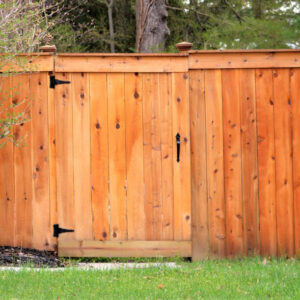 We Also Provide Fence Staining Services in Naperville
We also offer fence staining services throughout Naperville and surrounding areas that will seal the wood grain, making it resistant to moisture and water damage. We know how a dirty fence can bring down the value of your home, but POWERHOUSE can restore fences to their original condition and appearance.
Call us at (630) 355-5456 for the best fence staining and restoration services in the Naperville area!
POWERHOUSE is the Fence Cleaning, Staining & Repair Company You Can Trust
When you choose Powerhouse Pete for your fence restoration service needs, you can be sure that you are getting nothing but the best professional for the job! Powerhouse Pete does not compromise between quality and workmanship! Pete is very experienced and will be able to provide you with all the necessary information on fence cleaning, staining, and restoration services done the right way.

POWERHOUSE offers a wide range of fencing restoration service options including:

Fence soft wash cleaning
Fence sealing
Fence staining
Fence repair
Fence painting
Wood fence restoration
For superb wood fence restoration services done the right way, choose POWERHOUSE. Contact us to schedule an appointment.
Fence Cleaning Protects Wood While Extending Its Life
Cleaning your fence with POWERHOUSE's special equipment is the best way to protect your wooden fences! Our soft washing process means that we won't leave any brush marks on your wood fence.
POWERHOUSE's method is safe for both your fence and the environment, and it will leave your fence looking as good as new!
For the best fence cleaning in Naperville and surrounding suburbs, POWERHOUSE is the best choice! Call (630) 355-5456 to get your fence POWERHOUSE clean!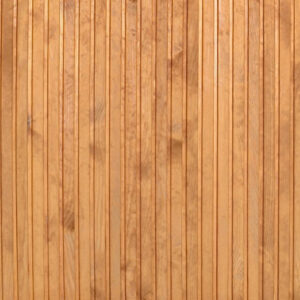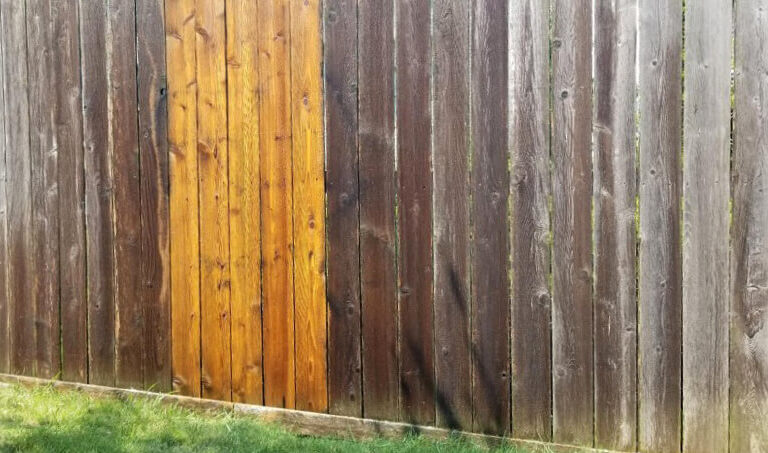 Schedule a FREE Fence Cleaning, Staining, or Restoration Estimate Today
We also offer fence staining services that will give your fence a new look while sealing its wood grain, making it resistant against moisture and water damage.
If you are interested in getting your fence cleaned and stained, call (630) 355-5456  now to get a free estimate!
Our process is simple: we clean, seal and stain your entire fence so that it looks brand new again! We will color match a new coat for a seamless look across your entire fence.
Powerhouse Pete believes customer satisfaction is #1 priority!
We offer top-notch fence cleaning, staining, and restoration services
Over a hundred positive Google reviews from our wonderful customers
Powerhouse Pete has over 35 years of experience! You can trust Pete with your wooden fences
Give Powerhouse a call now at (630) 355-5456 for a free estimate on any service!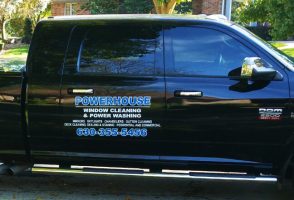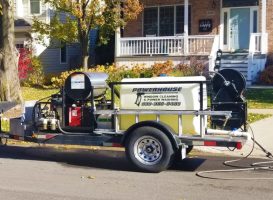 All Types of Fences Cleaned
Wood fences
Vinyl fences
Metal fences
Chain link fences
Steel fences
Aluminum fences
Composite fences
Wrought iron fences
Specialty fences
Decorative fences
All Types of Surfaces Cleaned
Pressure-treated wood
Cedarwood
Redwood
Pinewood
Cypress
Vinyl / PVC / plastic
Composite materials
Exotic hardwoods
Tropical hardwoods
Concrete and other surfaces