Gutter Cleaning and Repair Service in Naperville
Gutter cleaning is one of those things that, in addition to the fall season, may also be necessary at other times of the year.  We know how easy it is for your "to-do" list to quickly get out of hand, and how it is very easy for gutters to take a backseat to the more pressing issues around your home. Unfortunately, if you do not take advantage of our gutter cleaning services or gutter repair services, they can be clogged or damaged by leaves, twigs, and another sediment.
When this happens, rainwater will back up and overflow, potentially causing major damage to your home's drywall, roof, basement, foundation, soffits, and fascia. Over time, this can damage the gutters themselves.
Prevent this damage and protect your home by contacting POWERHOUSE today for a quote. While we do not install gutters, we offer gutter cleaning and gutter repair.
You can count on Powerhouse Gutter Cleaning Services in Naperville, IL, and surrounding areas:
Professional and thorough Gutter Cleaning Services
Gutter Leaf, Twig, and Sediment Removal
Downspout Clearing
Residential Gutter Cleaning
Commercial Gutter Cleaning
Gutter Repair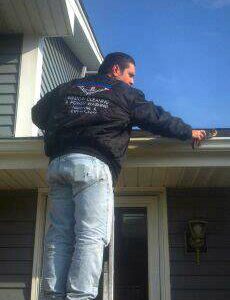 If you are looking for someone to take care of those clogged gutters, call Pete!