Naperville's Best Power Washing Service
Power Washing uses the force of heated high-pressure water, up to 4,000 psi in some cases, to blast surfaces clean of dirt, mold, and other contaminants. It is very similar to pressure washing, and in fact, the terms are sometimes used interchangeably. However, technically power washing uses heated water while pressure washing uses unheated water.
The main benefit of using heated water is that it enables a much more efficient and effectively deep clean when compared to unheated water, especially for difficult to remove salt, mildew, and even weeds! So, while pressure washing can be a sufficient solution for smaller areas like driveways, decks, and other areas around your house or business, utilizing a power washer for larger commercial jobs will ultimately give you a solution that is both fast, cheap (i.e. less time) and done with the same high-quality everyone has come to expect from POWERHOUSE.
Residential Power Washing Services
We provide homeowners with the excellent power washing services they have come to expect from POWERHOUSE.  Whether it's a concrete patio, walkway, sidewalk, or driveway, there's no dirt or grime that can match our professional washing and service.  For those exterior surfaces that need a softer approach, there are our exterior Soft Washing services. Learn more here.
Commercial Power Washing Services
Also, when it comes to keeping your Naperville area business looking sharp and professional, POWERHOUSE provides the Commercial Power Washing services you need at a great price. Business owners and property managers across Naperville, Illinois, and the Western Chicago Suburbs count on us all year round to deliver fast, efficient, and reliable concrete pressure washing, hot power washing, and service. They love our attention to detail and the genuine respect we show for their business property, operating hours, employees, and customers. So whether you own a single shop or manage multiple commercial properties, let us show you why calling POWERHOUSE is the smart choice for your business that won't break your budget!
Entrance Area Pressure Washing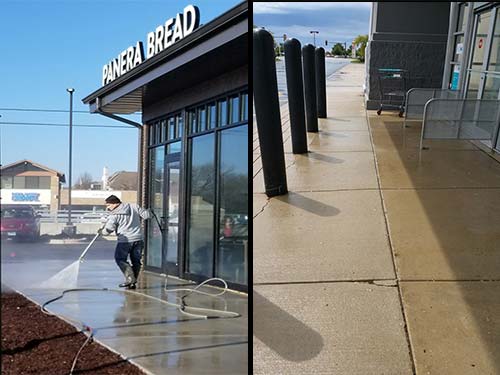 The appearance of your business's entrance area says a lot about what customers can expect to find inside. Don't let a dirty, grimy, or gum-covered entrance area give people a negative first impression of your Naperville area business.
Entrance area, storefront cleaning, and pressure washing services are fast and efficient and go a long way towards letting customers know how much you value them and their business.
Entrance area cleaning services:
Concrete Cleaning
Chewing Gum Removal
Stain and Spill Removal
Tire Mark Removal
Window Cleaning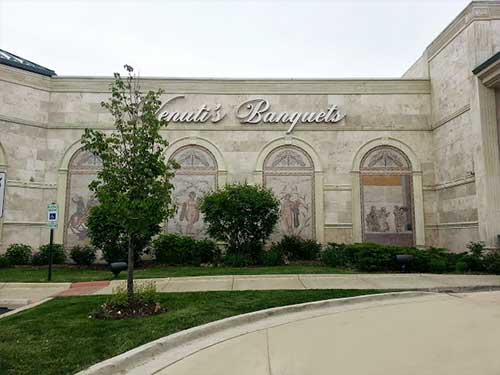 The sidewalks and walkways that surround your building need to be kept free of dirt, stains, and chewing gum to keep your business, as a whole, looking it's very best.
While front-facing sidewalks and walkways require the most obvious attention, it is easy to overlook the areas alongside and behind your business. POWERHOUSE will ensure your sidewalks are 100% clean and presentable.
Ideal for all types of businesses:
Shopping Centers
Department Stores
Restaurants
Medical/Dental Offices
Banks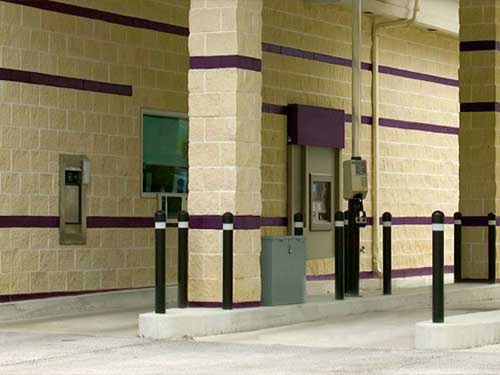 Drive-thru lanes, by their very nature, are high traffic areas. This constant exposure to vehicles and the public create an area of your business property that gets dirty and stained at a faster rate than other areas of your property.
POWERHOUSE will work around your schedule and develop a plan to ensure there is no interruption to the flow of customers to your business.
Drive-thru lane cleaning is ideal for:
Fast Food Restaurants
Pharmacy Drive-Thrus
Bank Drive-Thrus
Food Takeout Areas
Convenience Store Drive-Thrus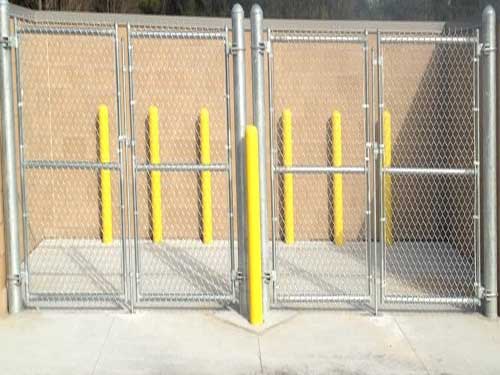 A grimy and nasty looking dumpster pad is never good for your business. It not only looks awful to customers, it also services as a breeding ground for pest and vermin and it can pose a real health risk to you and your employees.
We specialize in keeping this often neglected area of business properties as clean and sanitary as possible. Our high pressure power washing cleaning washes away disgusting stains, spills and grime.
Dumpster pad cleaning services include:
Concrete Cleaning
Oil & Grease Removal
Stain & Spill Cleanup
Rust Stain removal
Dumpster Washing